Almost all UTVs now days are 4WD, some with an option to switch to 2WD. 4WD or AWD will make keep better from getting stuck and accelerate faster. When 2WD can save your lawn if you need to drive on it.
If you are in the market to purchase a new UTV or SXS (side-by-side), considering between the different types of UTVs in the market can be a daunting task. Is 4×4 that important on an SxS? Are 4WD UTVs similar to all wheel drive (AWD) UTVs? Is there anything on a rear wheel drive worth considering? In this guide, we will answer these questions and more.
We'll take a closer look at the four wheel drive (4WD), all wheel drive (AWD), and rear wheel drive (RWD) UTVS, and how you can choose between them. This article will focus on the utility segment.
4×4, 4WD, AWD, RWD: The Terminology of UTV
Here, let us discuss terminology. The 4WD and 4×4 terminology can sometimes be confusing, especially for beginners, and the terns 4WD and AWD are also often used interchangeably. Before everything else, here we will discuss their definitions so we are on the same page when we'll discuss the pros and cons of the different systems further below.
All 4×4 vehicles are 4WD, but not all 4WDs are 4X4
The terms 4×4 and 4WD, are often used interchangeably, but not all 4WD vehicles are 4×4 vehicles.
In a 4×4, all four wheels receive power from the engine and rotate. In a 4×2, on the other hand, only two of the four wheels receive power. So, all 4×4 vehicles have 4WD, but there can be cases where an eight-wheel truck has two powered axles, and so it's technically an 8×4 truck and not 4×4.
So, when you are choosing between different UTV models, first look at the number of wheels, then check how many of these wheels receive power from the engine.
4WD VS AWD: Common Misconception
AWD and 4WD used to be two very different systems but in recent years the gap between the two has been blurred.
AWD, stands for All Wheel Drive, will drive power to all wheels without any input from the driver, while in 4WD (four wheel drive), the driver typically can select whether to operate all wheels or just two and can also select between low and high ranges.
Another key difference between the two is their philosophies: a 4WD system tries to drive as much power to all wheels as equally as possible for maximum traction. On the other hand, an AWD system is about varying the amount of power driven to each wheel (either electronically or mechanically) according to the terrain's needs, and the process is all automated.
So, technically when discussing cars, trucks, or other road vehicles, AWD is different from 4WD. However, since most UTVs nowadays use the continuously variable transmission (CVT), the lines are further blurred and so typically the terms 4WD and AWD can be used interchangeably for UTVs.
Rear Wheel Drive (RWD) UTV
As the name suggests, in a rear wheel drive (RWD) UTV, the power of the engine is only directed to the back wheels. So, technically it is a 2WD (two-wheel drive) system. So, in an RWD UTV, the front wheels are actually passive and don't receive any power from the engine.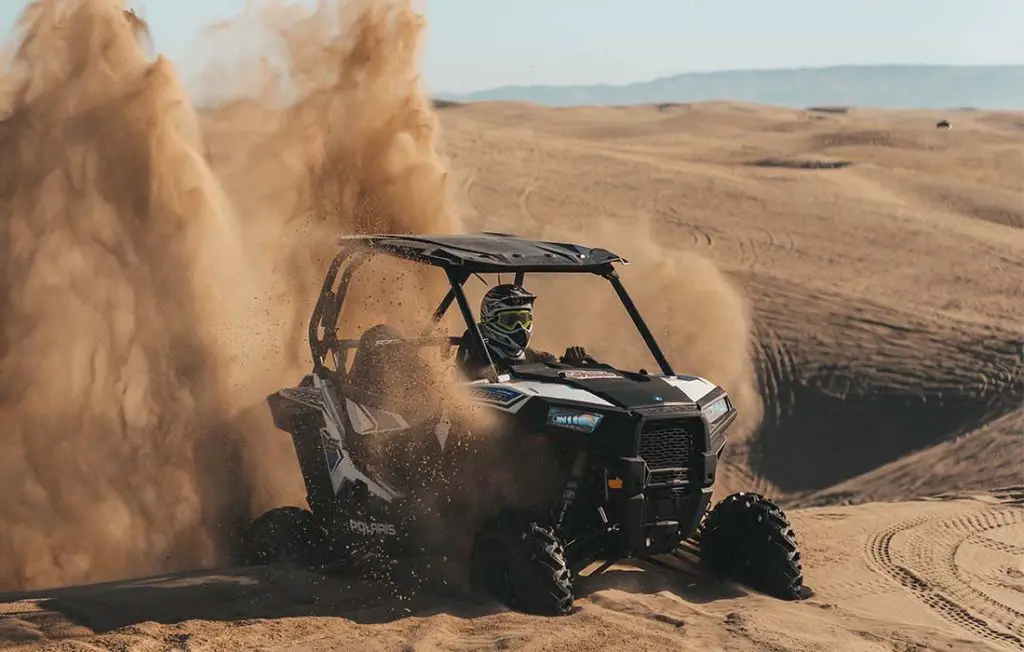 AWD VS RWD: Benefits and Drawbacks
So, what should be the main factors to consider when choosing between an AWD UTV or RWD UTV? In this section, we will discuss these different factors one by one. Let's start with the benefits of the AWD UTV vehicle.
Pros of AWD UTV:
Traction: One of the biggest factors of getting a 4×4 vehicle is that it improves traction. Since all four wheels rotate, it can get you out of situations where two of your wheels are stuck or trapped on slippery surfaces. So, if you are going to ride your UTVs in snowy climates or muddy off-road terrains, we'd strongly recommend getting an AWD UTV.
Stability: Newer AWD and 4WD systems are very sophisticated and often equipped with sensors to monitor the individual wheels. Again, this will help in getting improved traction in demanding terrains and weather conditions. However, this will also improve the UTV's overall stability in handling.
Performance: Especially in sophisticated AWD systems where the vehicle can adjust power individually to the four different wheels. In general, however, AWD and 4WD vehicles offer much better performance compared to rear wheel drive UTVs.
However, there are also some drawbacks to the AWD system, as we'll discuss right away.
Cons of AWD UTV:
Worse fuel efficiency: in most cases, rear wheel drive UTVS get better gas mileage compared to AWD or 4WD UTVs. 4WD or AWD UTVs have to send power to all wheels, and so will require more energy. RWD UTVs have simpler drivetrains, which will translate into better fuel efficiency in the long-run.
Price: AWD UTVs are generally more expensive than RWD UTVs of the same quality. The price difference can be quite significant, and so unless you often take your UTV to snowy terrains or rough terrains in general, probably you might want to get a cheaper RWD UTV instead.
Maintenance: Since AWD systems are (much) more complex than rear wheel drive setups, they will require more difficult maintenance. This can end up costing you more money in the long run.
Now, let's move on to the RWD UTVs and their benefits.
Pros of RWD UTV:
Better in Dry Conditions: Rear wheel drive UTVs offer better handling in dry conditions. They offer better load transfer in acceleration and better weight distribution.
Lighter: Typically the whole vehicle is lighter than a comparable AWD UTV due to the simpler RWD engine.
Easier Maintenance: Since there aren't many parts included in the simpler RWD engine, RWD UTVs tend to have less costly maintenance.
Handling: Steering is much easier in RWD vehicles since the front wheels do the work of steering without providing any power, so they are much easier to handle.
Cheaper: Typically RWD UTVs are more affordable than the comparable AWD UTV, so if you don't really need the 4×4 capabilities, it's more cost-efficient to get an RWD UTV instead.
There are, however, some drawbacks to consider in RWD vehicles.
Cons of RWD UTV:
Bad In Rough Terrains: The RWD pushes the car rather than pulls it, so it can be difficult to maneuver it in snowy and wet terrains. Modern RWD UTVs with stability and traction controls have figured out how to better face the elements. However, for the most part, RWD UTVs are useless in bad weather conditions.
Performance: when compared to AWD UTVs, rear wheel drive UTVs almost always lose in performance. If the conditions are challenging, gaining momentum in an RWD may prove difficult compared to an AWD.
Stability: Again, especially in rough and wet conditions, RWD vehicles will offer worse overall handling and stability compared to the AWD counterpart.
Which UTVs are 4×4
With so many different brands offering UTVs at the moment, most of them now offer 4×4 or AWD products. However, not all of them offer good quality 4×4 with optimal performance and design. Below we will discuss some brands that excel with their 4×4 products:
Arctic Cat
A well-known company not only for UTVs but also snowmobiles and ATVs. For this brand, we'd recommend the Arctic Cat Stampede 4×4, which is their new 4×4 model in 2020. The Stampede 4×4 offers an 80HP and 856CC engine, offering an optimal power-to-weight ratio.
The Stampede 4×4 is an AWD UTV, and so if you are looking for a pure 4WD vehicle, we'd recommend the Arctic Cat Prowler Pro, which offers an 812 CC, 3-cylinder engine.
Kawasaki
Another popular brand, we'd recommend the Kawasaki Mule 4010 4×4, which offers a 617cc V-twin engine. But, Kawasaki also offers various other 4×4 variants that are noteworthy like the Mule SX FI 4×4 and the Mule SX FI 4×4 XC.
Which UTVs are RWD or 2WD
As mentioned before. Almost all UTVs now days are 4WD, but some offers the ability to switch drive mode to 2WD.
Polaris Ranger 570
Polaris is arguably one of the most famous manufacturers for UTVs, famous for its use of electric power trains.The Polaris Ranger 570 offers a 44HP, 570cc ProStar 570 engine. This model comes with 4×4 and a button to switch to 2WD. Its not a complete RWD UTV, but the 2-wheel drive can spare your lawn. Read more about Polaris All-Wheel Drive Basics at thier website.
It can easily handle a massive 1,500-pound payload and offers a durable composite gas that holds up to 800 pounds.
You can find out more specs and info at the Polaris Ranger 570 website.
Polaris Ranger 150 EFI
The Ranger 150 is a UTV for youths. With a 150 cc engine and a 2-wheel drive system this smaller sized UTV is recommended for age 10+ according to Polaris website. This model does not come with 4WD.
Honda
Obviously, Honda is one of the biggest vehicle manufacturers in the world, and now Honda is a well-known manufacturer of UTVs. Although they don't have a lot of different UTV models at the moment, the Honda Pioneer 500 is a solid contender for one of the best 2WD UTVs around. This one is also a model with both 4WD and 2WD.
The Pioneer 500 offers an efficient five-speed automatic transmission with a single-cylinder, 475cc engine.
You can find more specifications on Hondas website.
Conclusion
In general, the 4×4 or AWD UTVs are the more expensive options compared to their RWD counterparts. However, AWD UTVs will perform significantly better performance in rough terrains like snowy conditions, wet terrains, and other challenging terrains.
So, whether you should get a 4×4 or an RWD UTV will depend on several factors like whether you are going to ride the UTV on rough terrains or if you live in an area with a colder climate. Since RWD UTVs are generally more affordable and can perform really well in dry conditions, they might be a better option unless you really need the AWD's capabilities to navigate rougher terrains.