The idea of racing a UTV or any other high-octane vehicle over sand dunes is highly appealing to many thrill-seekers. It doesn't matter if you have never ridden a UTV before or have some experience with these vehicles on your own land – dune riding just looks so much cooler. However, we can't just rent a vehicle, head for the sand, and hope for the best. There is a lot to consider about this sport before you get behind the wheel. If you don't have the right kit, safety considerations, and general respect for the sand, it can all go wrong pretty quickly.
In this guide, you will find some important advice on how to ride the sand dunes in your buggy. This includes tips on handling the terrain, what to wear, and how to look out for each other.
Then we can consider some of the best places to go and ride – both in the US and abroad – where you can put it all into action.
Stay safe out there with the right procedures, clothing, and safety considerations.
Before you can go out and master the dunes in any meaningful way, you need to make sure that you wear the correct gear and follow safety guidelines.
Dune riding in a UTV can be dangerous so you need to be prepared. In fact, some parks and rentals won't let you ride without the right licenses and gear.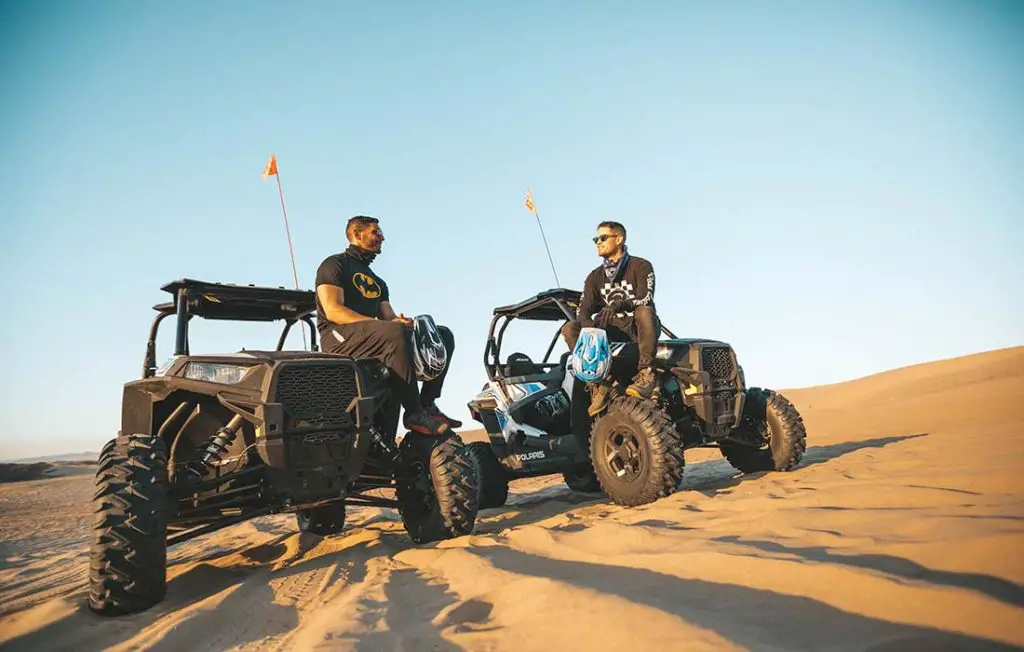 Why is sand dune riding so dangerous?
You might wonder why we need to be so cautious about riding out on the dunes, especially if we already have experience handling these buggies in our spare time. It is vital to remember that this terrain is significantly different, with its own hazards. If you drive the same way as you would at home, you will be in for a shock. Remember the following points.
UTVs are always dangerous because of the speed and risk of accidents.
There are constantly shifting sands and angles in the dunes.
Sand is soft in high density but not when you land at high speed.
Sand particles are rough and can get everywhere. This can be hazardous when they get into your eyes.
Bright sunlight reflected off of the sand isn't good for our vision either.
You really do need to respect the sand. This quite literally isn't a day at the beach. The sand will get the better of you if you aren't careful. So, you need to prepare for your trip and understand the conditions and limitations involved. With that in mind, let's consider some of the ways to respect the dunes and others.
For more safety tips, check out our article 10 Tips on UTV Safety.
How to be respectful and cautious when riding your UTV on the sand dune.
Respect is always important when riding your UTV on the sand. You need to make sure that you:
Respect other drivers
Respect campsites and populated areas
Respect nature
Respect the shifting nature of the dunes
One important piece of advice to remember here is to always treat your adventure as though it is the first time you have ever ridden on sand dunes. This is true even if you have been to that park or recreation area before. The reason for this is because the dunes don't retain their form. They shift and develop new shapes all the time – and on-going interactions with UTVs will only speed up the process.
Therefore, you have to treat each dune as though it is new. You don't know what is on the other side. For example, a sharp drop may have developed that could result in a crash.
This respect for the landscape extends to a respect for nature. This is a natural landscape that may be home to important flora and fauna. Respect anything you come across.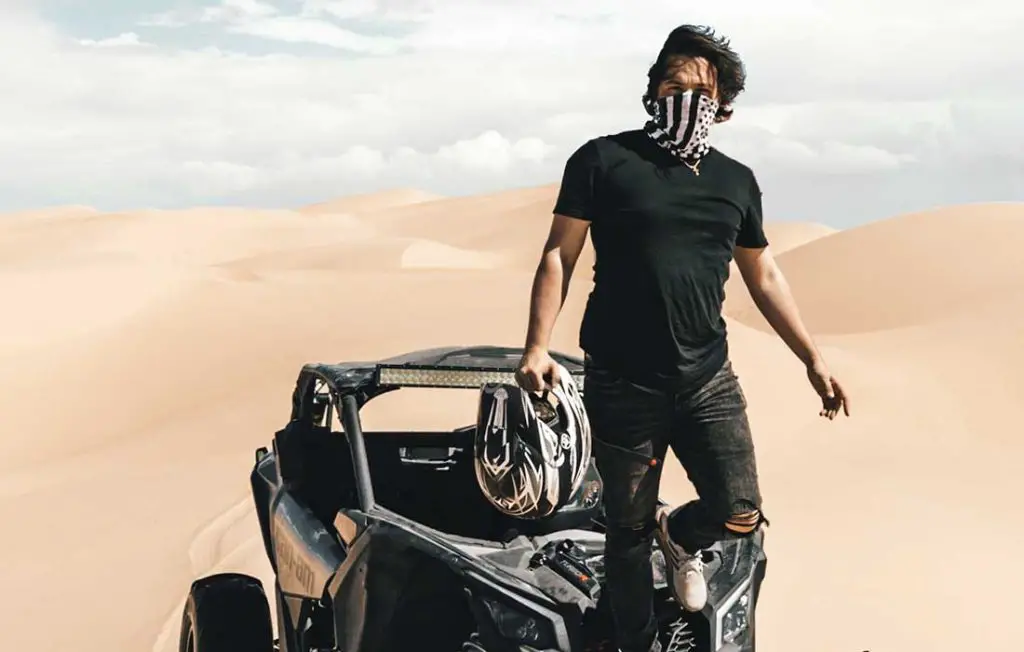 You also need to respect all the human inhabitants that you encounter during your adventure. There are too many riders out there that get caught up in the thrill of high-speed rides across the sand and don't consider those around them.
They might get too close to other drivers, potentially endangering them in the process. Others have a habit of racing too fast too close to campsites and other areas where family and friends may gather. Give them space and peace without making too much noise and kicking up lots of sand.
What should you wear when riding on sand in your UTV?
Next, we need to think about the safety equipment that we will wear when we ride on the dunes. When we think about those hazards above, such as the glaring sun, small sand particles, and the rough textures, we need to reconsider some of our choices in gear.
It isn't too hard to kit yourself out with the best kit to avoid injury if, or perhaps when you fall from the UTV.
The right helmet is a must as it will offer protection via padding and also ventilation in the heat
Sand googles with closed-cell foam will stop sand particles and the tinted lens help with sun protection.
A full-length riding shirt and pants combo is a must to prevent injuries and burns on arms and legs
Tough boots that can handle the sand with traction and ankle support. This is important when you need to get out and walk.
Other pieces of safety equipment to consider.
We can't consider our safety when riding on the sand dunes without thinking about some of the modifications and equipment needed in our vehicles. These include the following.
Safety belts in your vehicle are essential, so choose a strong harness for you and your passenger
Roll cages can minimize damage if the UTV turns over on a dune
Good tires make sand easier to handle. Go for width and consider sand paddle tires as a better way to get through the dunes
A safety flag at a minimum of 8ft from the ground offers visibility for other drivers
Communication equipment – just in case you get lost, injured, or simply lose track of time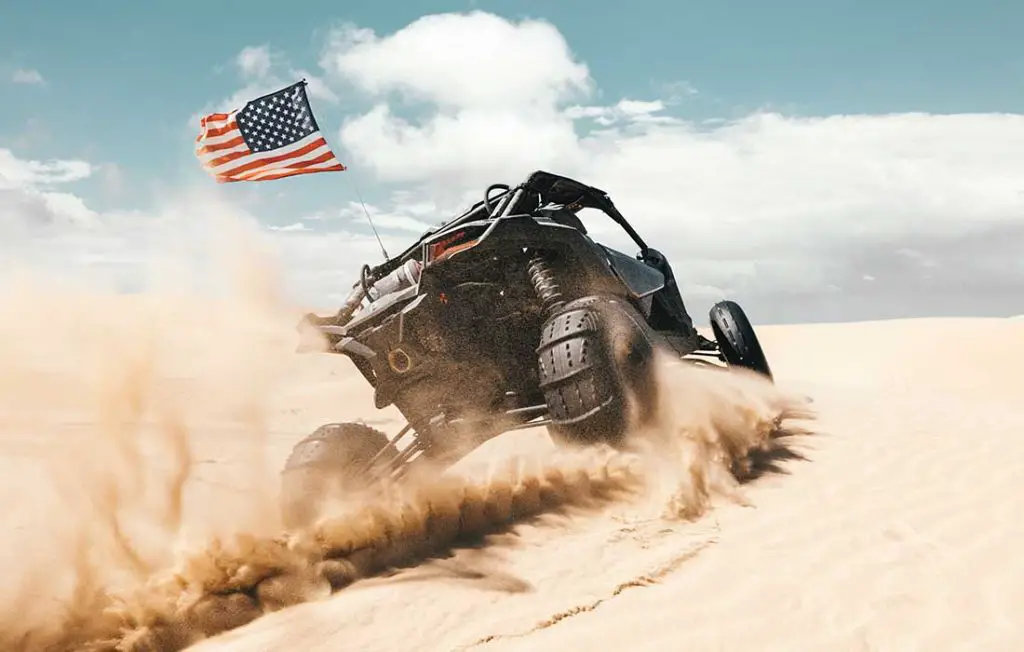 How to handle the dunes in a UTV.
Next, it is important to consider the following tips on handling the vehicle and the dunes. This can minimize the risk of accidents and offer a smoother, more enjoyable ride.
Maintain good momentum all the way. This means the right speed on accents and control on descents
Don't brake or accelerate too quickly. Sudden braking can cause a mound of sand in front of the vehicle.
Take a sweeping curve up a dune to see what's on the other side. This will help you avoid drops, other drivers, and other risks.
Try to reverse out if you get stuck rather than dig in with the accelerator
Finally, always ride with someone. Wherever you go on your journey, and whatever you attempt on the dunes, do so with someone else. Make sure that you are both in agreement about where to travel, how fast to go, and how to attempt a climb.
This could be together side-by-side in your UTV or in two vehicles on the same route. Don't attempt all this on your own.
The last thing you need to be lost or stuck in the middle of nowhere with no-one there to help you.
Some of the best locations for dune riding across the world.
If you think that you have what it takes to go out into the world and test your UTV skills on the sand, you can start planning your ideal trip.
Driver with an adventurous spirit, and friends and family that want to go and explore, can plan a vacation to a desert location or a foreign coastline.
Some tourist-friendly locations will have designated areas with tours, rentals, and all the right facilities for a great ride.
Sand dune riding on the Australian and Spanish coasts.
Check out listings for companies that offer dune buggy riding, UTV tours, and similar opportunities in coastal destinations.
Australia will always be a top choice for many people because it is such an exotic and beautiful location. The Gold Coast and other Western shorelines are perfect for those that want to go riding in a tropical summer location.
You don't have to venture far from the city to get a good experience and hire some kit. The other great thing about choosing Australia is that you can ride in the summer in the US, travel to the Australian coast in Winter, and arrive to enjoy their summer.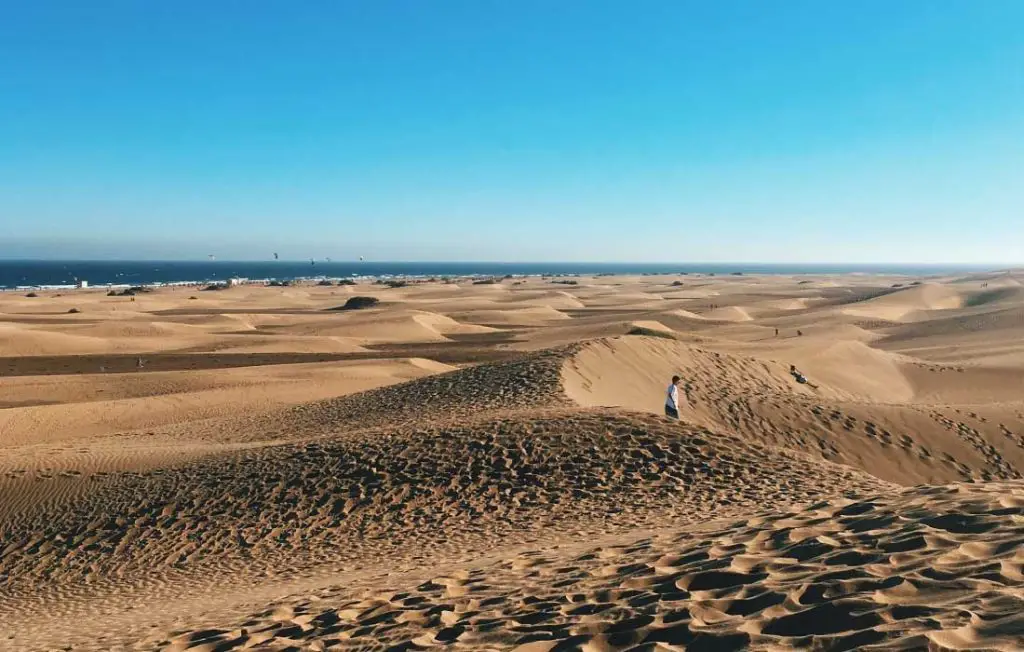 If you like the idea of riding in Australian dunes, but not the cost, distance, or the infamous dangerous wildlife, you could head to a Mediterranean destination.
Spain is a great example because of the climate, culture, and general accessibility. There are lots of resorts and areas on the mainland or on the Canary Islands with great tours and UTV sand riding experiences.
Desert riding in Dubai, Egypt, or Morocco.
If you have some experience with sand riding or just really want to go for it, a desert location can be a great choice. You can head to locations based around some of the biggest deserts in the world and see what awaits yours.
The Sahara has to be one of the ideal places because it is such a vast wilderness with no-one else around. Obviously, you will need a guide for these trips, but you can still get a sense of freedom you don't get on dunes.
Why not base yourself in Morocco and head out from there for a great vacation. Or, if you want a different type of scenery on an African adventure, you could go riding out in Egypt with the pyramids as a backdrop.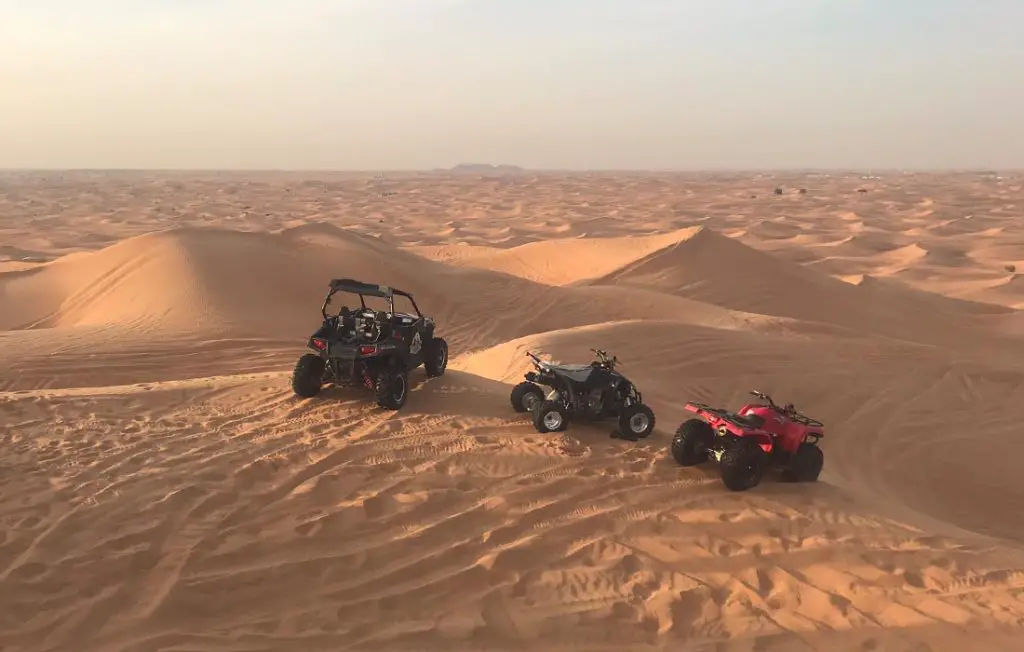 Another popular location is Dubai. Dubai is a beloved holiday resort anyway because there is that sense that you can do almost anything there.
It is an extraordinary city with impressive resorts and opportunities due to its vast wealth. It is also situated right next to an impressive dune system that has become a must-visit location for those that love to ride on sand.
Dune Bashing is popular here in 4×4 vehicles. It is also a great place to practice your skills in a UTV.
Can you ride sand dunes in a UTV in the US?
You don't have to book an expensive vacation to one of these locations in order to ride some great dunes. There are also some impressive systems in the US that you can have fun in.
One of the best in the Imperial Sand Dunes Recreation Area. There is a rental shop here for both ATVs and UTVs and, from there, you can head out over a vast area of 40,050 acres. Some of the dunes stand at 300 feet so you can get some great ascents and drops for a real thrill ride.
Just be aware that this can be a pretty popular place. You aren't going to get a lot of escapism on busier weekends.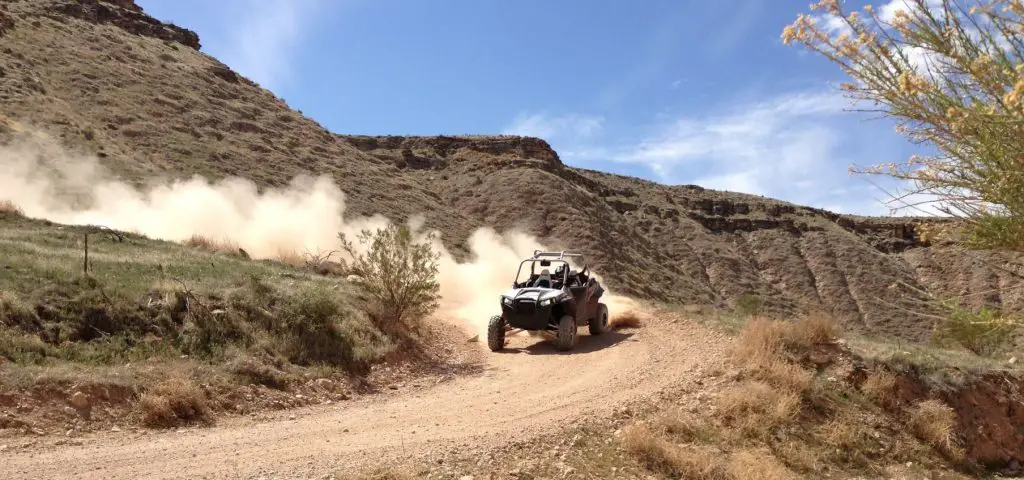 Further up the West Coast, you will find the Oregon Dune National Recreation Area. This is another popular choice because it is home to Dunefest in the summer. Visit Dunefests website here.
The appeal of this care is that you can some great forest trails to explore for a different challenge and scenic experience. There are also camping sites close by so you can make a trip of it. There are lots of dune systems and parks across the country so take a look and see what is near-by.
Of course, you will see a lot of guides about Las Vegas and the surrounding area but be aware that these are very tourist-focused with tours.
Wherever you go, stay safe and ride within the confines of your abilities and location.
There is always going to be that temptation to push yourself and your vehicle to fly over the dunes. You can be bold and feel that surge of adrenaline – either close to home or in one of those amazing foreign locations – but you don't have to be reckless.
Keep these tips in mind to get yourself kitted out properly and to handle the sand respectfully.