You're a landowner or rancher, and want a vehicle to assist in your responsibilities around your property. Maybe you're a hunting guide, and want to drive a dependable off-roading machine that will safely carry your gear and clients. It's clear that a UTV will do the job. However, with so many brands entering the UTV manufacturing space, how do you pick the right one? Especially between a Yamaha Viking vs Polaris Ranger?
No matter the reason for wanting a new UTV, it's important to do your research. While all vehicle manufacturers make UTVs to be user-friendly, some models may be more suitable for work than others. 
You may have heard of the Yamaha Viking or the Polaris Ranger – two high-class UTVs that have earned excellent reviews. Keep reading for our in-depth comparison of the Yamaha Viking vs Polaris Ranger. 
Yamaha Viking vs Polaris Ranger Overview
Utility Terrain Vehicles (also known as UTVs or side-by-sides) are working or recreational vehicles known for their side-by-side seating, immense payload capacity, and hauling capabilities. They are easy to drive because of their similarities to a car or truck. UTVs provide safety features that aren't matched by a traditional ATV (All-Terrain Vehicle). 
Yamaha Viking
Yamaha began producing motorized vehicles in 1955. While it is a Japan-based company, they have many factory locations in the U.S. 
Any Yamaha-built UTV is best known for its sleek design, easy driving and comfort. Yamaha customers admire the company's superior reputation, and their focus on technological advancement.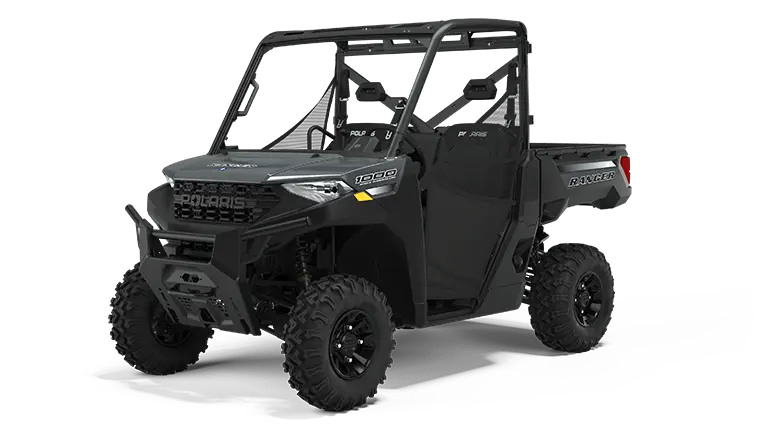 Polaris Ranger
Polaris Inc. was founded in 1954. Polaris products have become known for their presence in the outdoor industry, and build their products with safety and ethics in mind. 
This means that the Polaris Ranger is an American-made UTV manufactured with minimal bells and whistles. It gets the job done with ample storage space, a powerful engine, and a budget-friendly price point. Polaris designs and builds most Rangers in the Midwest. 
The reputation of these two companies is very good. Your UTV purchase decision will ultimately come down to your specific needs, and the models that the brands have designed with those needs in mind. 
Feature Comparison 
When looking for the right UTV to fit your lifestyle, there are a handful of distinct differences that you need to consider. For the sake of this review, most specs are in reference to the mid-level Polaris Ranger XP 1000 and the Yamaha Viking EPS, although the larger and more specialized models will be mentioned for the purpose of transparency and education. 
Size
The Polaris Ranger comes as small as Youth size and as large as Crew edition, which will hold up to six passengers. 
Depending on the model, the Polaris Ranger is designed with a ground clearance of 12-13 inches, which makes it ideal for your off-roading adventures. 
If you're looking for a group-friendly option but are not ready to commit to a vehicle the size of the Polaris Ranger Crew, the Yamaha Viking is a great fit. The side-by-side has pass-through 3-person bucket seating that is slightly off-set, giving passengers enough shoulder room to ride comfortably.
When it comes to how the Viking is sized for work tasks, the sleek body was designed with farm chores in mind. The width is sized to avoid crop row damage when managing tasks out in the fields. It also is built with a ground clearance of 11.8 inches, which makes it competitive with the Ranger. 
Engine
The standard 2021 Polaris Ranger 1000 model offers a 999cc, liquid-cooled four-stroke, eight-valve fuel-injected engine. 
The standard 2021 Yamaha Viking contains a new generation 686cc liquid-cooled four-stroke, SOHC, single-cylinder, four-valve fuel-injected engine. This means the standard 686cc was improved by adding a little more power and additional cooling mechanisms. Though the single-cylinder Viking is not the fastest machine on the market, the 686cc is highly dependable. As a ranch or work vehicle, it excels at lower speeds. 
Payload and Towing Capacity
The Polaris Ranger is a tough little machine, with a 2,500-pound towing capacity and 1000-pound bed capacity. With a 1,290 – 1,920 pound payload capacity, it can truly haul or tow whatever you might need during the job. 
The Yamaha Viking can handle up to 600 pounds in bed capacity, which it distributes and carries effectively. Though it does not boast the highest payload capacity of the UTV lineup, it can handle its max quite comfortably. It also maintains a towing capacity of 1500 pounds. 
Vehicle Suspension
The Polaris Ranger is built with an independent double A-arm suspension in both the front and the rear. Improvements have been made over the years to quiet down the spring and shock absorption system.
The Yamaha Viking contains an independent double-wishbone suspension in both the front and rear. 
Customizability
Both the Polaris Ranger and the Yamaha Viking have optional add-ons and accessories to customize the look and function of the vehicle. 
Polaris Ranger 
Available accessories include: 
Audio accessories – speakers
Cab heaters 
Rear panels and storage 
Plow attachments
Customizable doors  
Winches 
Customized headlights 
Custom tires 
Windshields – plastic or glass
Yamaha Viking 
Customizable features include: 
A folding windshield 
Heavy-duty front brush guard –
Highlight brush guard
A sealed rear window 
Overhead audio system 
You'll want to consider the features that are the most important to you and the vehicle's intended purpose when comparing the two UTVs. 
Additional Benefits
If you're looking for something quiet, the Polaris Ranger XP 900 is one of the quietest UTVs on the market. 
Unlike the Polaris Ranger, the Yamaha Viking EPS line contains electric power steering that makes turning a breeze. 
Affordability and Price
A price breakdown of the most popular Polaris Ranger utility models include: 
Polaris Ranger 500 – $9,499
Polaris Ranger 570 – $10,199
Polaris Ranger 570 Full-Size (3-Seat) – $10,499
Polaris Ranger XP 1000 (3-Seat) – $12,999
Polaris Ranger XP 1000 NorthStar – $23,999
Polaris Ranger XP 1000 Trail Boss – $19,299
Polaris Ranger Crew XP 1000 NorthStar – $26,299
Polaris Ranger XP 1000 High Lifter Edition – $20,599
Polaris Ranger XP 1000 Texas Edition – $18,899
Polaris Ranger XP 1000 Big Game Edition – $20,199
Polaris Ranger XP Waterfowl Edition – $20,199
Polaris Ranger Crew 570 – $11,499
Polaris Ranger Crew 570 Full-Size – $12,199
Polaris Ranger Crew 1000 – $18,299
Check out the official Polaris website for additional specs and current prices. 
A price breakdown of the most popular Yamaha Viking utility models include: 
Viking – $11,999
Viking EPS – $13,699
Viking VI EPS – $14,499
Viking VI EPS Ranch Edition – $15,799
Check out the official Yamaha website for additional specs and current prices. 
As you can see, the Polaris has many more special-edition options, as well as a wider range in size variability. When comparing the two, the Polaris Ranger has the cheapest consumer option available, though it's possible to spend a great deal more on a special edition or multi-person Crew model. 
Warranty
A UTV warranty guarantees that a manufacturer will replace or repair any necessary parts or features within a certain time frame. 
The new 2021 Polaris Ranger comes with a 12-month Limited Factory Warranty. 
A new 2021 Yamaha Viking comes with a Six-Month Limited Factory Warranty and the industry's first 10-Year Belt Warranty, which means that all Ultramatic automatic transmission belts are covered for ten years. 
Side-by-Side Specs
In function and price-point, the 2021 Polaris Ranger XP 1000 and the 2021 Yamaha Viking EPS are the UTV models in this comparison that are the most similar to each other, due to their abilities and the year of release. For a quick review of the differences, take a look at the specifications: 
2021 Polaris Ranger XP 1000
Engine Type – Four-Stroke Twin Cylinder DOHC
Cylinder Displacement – 999cc
Fuel System – Electronic Fuel Injection
Box Capacity – 1,000 lb
Payload Capacity – 1,920 lb
Hitch Tow Rating – 2,500 lb
Fuel Capacity – 11.5 gal
2021 Yamaha Viking EPS Utility Vehicle 
Engine Type – Four-Stroke Single Cylinder SOHC 
Cylinder Displacement – 686cc
Fuel System – Yamaha Fuel Injection
Box Capacity – 600 lb
Hitch Tow Rating – 1,500 lb
Fuel Capacity – 9.7 gal
Which UTV Is Right for You? 
If you are looking for a quiet machine with electric power steering, any model from the Yamaha Viking EPS line would be a worthwhile purchase. Its slim build and smooth suspension make for a tight turn radius. If you'd like to go with something larger, the Viking EPS Ranch Edition would give you an extended cabin for passengers. 
If you want an accessibly-priced UTV with a beefier engine, the two-cylinder Polaris Ranger is a great choice. Many reviews note that this vehicle has lasted them six years or more, which makes it a reasonable investment, even at its higher price points. The 12-month warranty can also help you to rest easy at night in case anything goes wrong within the first year of your purchase. 
Both vehicles are extremely customizable. With the wide range of models offered by each brand, it is possible to find a specific size that works for your needs and any potential passengers. 
We hope that you feel a little more confident with our Yamaha Viking vs Polaris Ranger comparison. If you're interested in expanding your options, read more about the Viking vs. Kawasaki Mule.