These are useful tools for anyone who finds themselves routinely transporting very heavy loads without the aid of unloading equipment. Dump beds are hydraulic based and designed to make it faster and more efficient to remove heavy material loads from the bed of UTVs. Instead of loading and unloading, you can simply have the bed lift itself to nearly vertical, and the contents will slip out on their own. This is usually used for raw materials (e.g., dirt, hay, rocks, etc.).
In addition to having a cargo bed that is able to dump out its content, there are also a lot of add-on accessories (e.g., bed liners, cargo nets, tailgate extenders, etc.), which can make them tailored to your specific needs. Before purchasing a UTV on the showroom, you might want to take a look at the personalization section that is currently available on the sites of most popular UTV design companies. This section allows for adding on specific features such as a dump bed, cargo bed liners, or choosing a flatbed option.
You can personalize UTVs in almost any way thanks to design contractors who can make you a bed, extension, or storage add-on that will be precisely what your work or play requires. Dump beds are very popular among hunters, and most of these utility/sports UTVs also have manufacturer accessories for storing hunting equipment, bows, and other hunting gear.
Different types of dump beds
There are a couple of different types of flatbeds. Ones with sides, without sides, and a few models like the Can-Am Defender 6×6 DPS, which can convert with the sides lowering to create a flatbed. Some models have utility toolboxes that fit on either side of the bed and can be removed. There are three main types of dump beds.
Flatbed
No sides
Utility Bed
The sides fold down
Utility Bed
Static sides
You can find variations on these in most commercial utility UTVs as well as aftermarket kits, which can be explicitly designed for farming, material, or heavy equipment hauling. We will go over the specs and feature details for each of those in the aftermarket section further down in this article.
Popular brands with dump bed
As UTVs gain popularity, they are also starting to branch out into more specific subsets of designs. For example, UTVs designed specifically for waterfowl hunting or Sahara desert racing. The more that people show interest in a certain type of UTV, the more popular brands will start to offer those features as a part of their basic series packages. Below are a few of the popular brands that feature dump bed options right off the assembly line.
The Can-Am Defender series and the Polaris Ranger series feature dump beds with various add-ons and features available such as tool kits, and steel sideboards. All of these brands, with the noted exception of Honda, also have a significant number of aftermarket kits you can use to personalize your dump bed to fit your hobby and lifestyle.
Why would you need a UTV with a dump bed?
These beds allow for heavy utility hauling without the need to exert a lot of energy unloading it at the drop off point. They are also excellent for transporting heavy equipment and can be used as a place for making emergency repairs in the field. If you want a utility or sports model for hunting, then a dump bed can help with unloading your more substantial catches. You may also be interested in looking at some ATVs with the dump bed option. For example, the Kawasaki Mule series of ATV is an excellent choice for ranch or construction work.
Ranchers are a huge demographic when it comes to who benefits most from dump beds on UTVs. Country ranch owners can have a lot of ground to cover in a short time. The way that sports utility UTVs can travel over most terrains even in inclement weather means that they will be able to haul materials and reach distant locations on their ranch without any difficulty. It also makes it easier to complete all the many ranch responsibilities quickly and efficiently. Most UTV models can be equipped with snow tires or tracks, as well as snowplows. For rural locations, these can sometimes be the only vehicles that can make it in and out of a property during the winter months.
Big game hunting is also a popular hobby that requires a UTV that can get out to mountain locations and do rock climbing without losing the ability to haul out a weighty catch at the end of the day. You will see some of the rec/utility models seem almost specifically designed for hunters with their myriad of add-on options for hunting equipment and bow mounts.
The best UTVs with dump beds
Below are some of the series and models that feature dump beds. Most of them are strictly utility vehicles, but there are a few that are sport/utility, which will come in handy for hunters. All of the specs and features listed below were taken directly from the manufacturer's site to ensure correct dimensions and prices.
Can-Am – 2020 Defender Series
(base model specs featured)
Model Type: Utility
Price: $10,399 to $20,799
Bed Dimensions: 38 x 54.5 x 12 in. (96.5 x 138.4 x 30.5 cm)
Bed Capacity: HD5: 600 lb (272.2 kg), HD8: 1,000 lb (454 kg) and CA only: 600 lb (272.2 kg)
Features:
Tailgate load capacity 250 lb (113.4 kg)
Front Suspension: Double A-arm with 10 inches (25.4 cm) travel
Rear Suspension: TTA with external sway bar and 10 inches (25.4 cm) travel
Bed Add-ons:
Hardshell and soft bed covers
Bed toolbox
Bed wall extenders
Bed liner
Bed netting
Bed tie rails
Bed protective rails
Hanging storage box
Tailgate extender
Terrain: This UTV handles all types of terrains and weather conditions. It is great for rural work zones, around the farm, or mountain riding.
CAN-AM Website: https://can-am.brp.com/off-road/us/en/models/side-by-side-vehicles/defender.html
Yamaha – 2020 Viking Series
(base model specs featured)
Model Type: Sports/Utility
Price: Starting at $11,999
Bed Dimensions: 36.6 x 54.7 x 12.2 in. (92.96 x 138.94 x 30.99 cm)
Bed Capacity: 600 lb (272.2 kg)
Features:
The cargo bed is made of steel and designed for heavy loads
Front/Rear Suspension: Independent double-wishbone with 8.1 in. of travel
Add-ons:
Bed netting
Bed tie rails
Bed protective rails
Bed toolbox
Hunting equipment mount
Soft bed cover
Rear grab bar
Bow case mount
Stronghold transport gun boot
Bed double gun boot holder
Terrain: The Viking series is the quintessential hunter vehicle. This UTV works well on mountain trails, rock climbing, sand, and mud. Fantastic for hunters with several add-ons for gun boots and bow mounts. There is also a wheel track system kit you can buy for taking this UTV out in the winter.
Yamaha Viking website: https://www.yamahamotorsports.com/utility-side-by-side/models/viking
Honda – 2021 Pioneer 1000
Model Type: Sports
Price: Starting at $15,899
Bed Dimensions: N/A
Bed Capacity: 1,000 lb (454 kg) and CA only: 600 lb (272.2 kg)
Features:
Front Suspension: Independent double-wishbone with 10.6 inches of travel
Rear Suspension: Independent double-wishbone with 10 inches of travel
Add-ons:
Bed liner
Mesh canopy cover
Bed extender
Rubber bed mat
In-bed gun boot mount
Rear drop cargo basket
Saddle storage toolboxes
Terrain: This side-by-side is more sport than utility. There is a Pioneer 1000-5 option that has five seats for even more fun with friends and family. This is a great little sports vehicle but can get some serious work done too. Use the dump bed for hauling firewood, hunting, or moving work materials. Due to the sporty nature of this UTV, it works great over most terrains and through any weather.
Honda Pioneer 1000 website: https://powersports.honda.com/sxs/recutility/pioneer-1000
Polaris – 2020 Ranger Series
(base model specs featured)
Model Type: Utility
Price: Starting at $16,899
Bed Dimensions: 36.75 x 54.25 x 12.5 in (93.3 x 137.8 x 31.75 cm)
Bed Capacity: 1,000 lb (454 kg)
Features:
Front Suspension: Dual A-arm 11 inches (27.9 cm) of Travel
Rear Suspension: Dual A-arm, IRS 11 inches (27.9 cm) of Travel
Add-ons:
Lock-and-Ride bed extender
Lock-and-Ride CargoMax system
Lock-and-Ride tool rack
Bed liner mat
Hardshell bed cover
Lock-and-Ride single gun boot mount
Lock-and-Ride cargo boxes (toolboxes)
Terrain: These are farm utility vehicles. You can use them for sports hunting or other hauling work, but at its heart, the Ranger is a farming UTV. You can customize it for your work with the four accessories lines they have available, which include the following.
Craftsman – For builders and contractors
Big Game – For recreational hunters
Ranch Collection – Add-ons for ranch specific tasks
Waterfowl Collection – Turn your UTV amphibious with these waterproofing add-ons
Polaris Ranger website: https://ranger.polaris.com/en-us/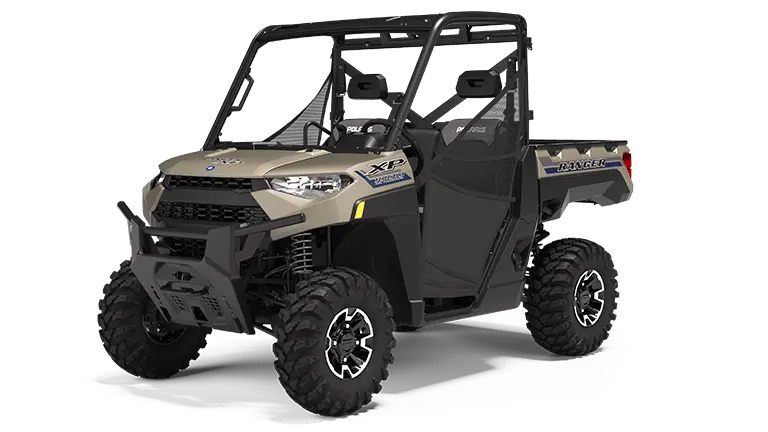 Side by Side models with the largest dump bed
The Can-Am Defender series has one of the largest bed dimensions available on the market. You can always get side and tailgate extenders as well to give yourself a bit more space. Generally, the size of a dump bed is somewhere around 36.75 x 54.25 x 12.5 in with a capacity of 600 to 1,000 pounds. That gives you some pretty serious moving power for your work or hobby that requires being able to transport large items.
Pros and Cons of a UTV dump bed
You might be wondering if it is really worth the extra money to get a dump bed. We have come up with a few perks and disadvantages of owning and operating a UTV with this feature.
Pros
They provide some serious hauling power allowing for large material transport with minimal work by the driver
They are straightforward to use (most have a control handle or button in the cab)
You can use these for work or play to make unloading easier
There are a huge number of ways that you can personalize these beds
Cons
Every UTV comes with a bed weight limit, and you do not want to overburden the vehicle by exceeding this capacity. Pay strict attention to payload weight limits when shopping for the right UTV otherwise, your dump bed might not be able to do everything that you will need
The packages that include dump beds tend to be slightly more expensive
If you purchase a dump bed aftermarket kit, then you will need to either install it yourself or pay someone to do it for you
Aftermarket dump bed kits
There are several independent companies that provide aftermarket dump bed kits as well as manufacturers that offer the option to add a dump bed onto your personalized UTV package. If you decide to go with aftermarket kits provided by a third party, then make sure that you keep a close eye on their dimensions, weight limitations, and any reviews that are available from customers who have used them.
Extension kits
There are a number of extension kits that you can get to increase the size of your cargo bed either by adding to the sides or extending the tailgate. The side extensions can come in various materials and sizes, but whenever you use them, make sure that you check the manufacturer guidelines first in terms of how much weight they can handle. You do not want to damage them by overloading your bed.
You also want to be sure that your specific model of UTV will actually be compatible with the bed that you are looking to purchase. Sometimes the dimensions can be off even if it fits other UTVs in the same series. If it does not explicitly state this information, then you will want to reach out to the manufacturer of the kit and ask them. This applies to "universal" dump beds as well. While they may fit most UTVs, there is a high likelihood that there will be some which will not be compatible.
Types of kits
The price ranges depending on what exactly you are looking for. If you are simply augmenting the existing dump bed on your UTV, then it will be less expensive than to completely replace a cargo bed with a dump bed. Below are a few kits, their features, and prices.
These examples are from Superior Industries LLC, which provides custom dump beds so you can get an idea of what some design contractors have to offer.
Flat bed
Extended 5′ wide by 4′ deep
Manual tilt
Stake pockets
Headache rack
Utilizes tail lights and brake lights from the factory bed
Fits Polaris Ranger and Yamaha Viking
Superior ranch edition
Extended 4.5′ wide x 3.5′ deep
Manual tilt
Fold-down sides and tailgate
2 tie-downs
Bed mat
Fits Yamaha Wolverine X2
Utility bed
Extended 5′ wide by 4′ deep
2 stake pockets to drop in a vice mount or uprights
4 tie-downs inside the box at each corner
2 mud flaps included
LED taillights
LED brake lights
LED side clearance lights
Fits Polaris Ranger and Yamaha Viking
You can do a search for designers and manufacturers that offer kits for the model of UTV that you currently own. This will bring up all the options available, and then you can either choose from those or get a custom bed built. Pricing will vary depending on what type of bed you want and what accessories you intend to include with it (e.g., liner mat, hunting equipment mounts, extended tailgate, etc.).
How do you install a dump bed
Each manufacturer will provide instructions for their bed kit, so you will want to look for those. However, there are a few things that it is always a good idea to do when increasing any kind of weight capacity with your UTV bed. First, you want to get some wider tires to provide more stability for the load. The center of gravity will be shifted with the change in weight dynamics created by add-ons like this, so you will need to be aware of that once you are done installing.
There are plenty of youtube videos and walkthroughs on how to install specific dump beds, so once you have made your choice, it is a good idea to look those up and see what kind of work it is going to take to complete the installation process. You will need hand tools and at least one jack.
You can also pay your local UTV custom design company to come in and install it for you. That saves you the time and hassle of doing it yourself though it will come with a price tag that you might want to avoid if you feel handy enough to do it on your own.
Conclusion
Whether you need the extra help transporting a load of gravel or your latest eight-point stag, there is a dump bed or kit that is right for you. These excellent tools make carrying heavy loads fun, easy, and stress-free.
There are some quite affordable dump bed kits that you can purchase and install for only a couple hundred bucks. The downside is that you may not have everything you would like included. If you buy a UTV that already has a dump bed installed, then it is also more likely to have interior and exterior features and specs that are designed for heavy hauling and convenience. You also do not have to deal with the hassle of installing your own bed.