Knowing the Weight Can Help You Decide Which UTV is Right for You
If you're in the market to buy a new UTV or what some people refer to as a side-by-side or SXS, there are a lot of factors that come into play when making a decision. One of the most important, depending on what you plan to do with your new UTV, is how much the UTV you purchase weighs.
For example, if you plan to tow your UTV on a trailer, you need to know the weight of the model you plan to purchase to ensure that the truck or SUV you're going to tow it with can handle the load. The same can be said for the trailer which, if the UTV you purchase is too heavy, may buckle or break down if your new UTV is too heavy for it to handle.
In this blog article, we'll take a closer look at how many pounds (and kilos) several different models and brands of UTV weigh, as well as some other important information that will help you make a purchase decision. So keep reading to find out How Much Do the Different Models of UTV Weigh? Enjoy.
First, Some UTV Terms that are Important to Know
When it comes to the weight of a UTV there are different terms that different manufacturers use to tell their customers the weight of their products. They include;
Dry Weight
Used by most manufacturers, the Dry Weight of a UTV is what it weighs when you see it on the floor of the showroom. At this point, it will have no gas or fluids in its engine or tank and so it would be 'dry'.
NOTE: Keep in mind when looking for a new UTV that the dry weight is usually the weight you'll see on the UTVs sticker even if it isn't noted.
Wet Weight
The Wet Weight of a UTV is its weight with a full tank of gas, all the necessary fluids like oil, and any standard equipment that the UTV comes with. Honda uses the wet weight of their UTV and it does make a difference, but frankly, it's a small difference that won't normally affect your decision.
NOTE: Wet Weight is also sometimes called 'curb weight' or 'ready to ride weight'.
Gross Weight
Occasionally you may see a UTV listing its Gross Weight. This number can be misleading as it is the total weight of the UTV plus the total weight of all the riders it can carry and any optional equipment as well. If, for example, you're looking at the gross weight of a UTV that can carry 4 passengers, the wight will be significantly higher than the dry and/or wet weight. Of course, you won't be towing it with passengers inside, so this needs to be taken into account when making your purchase decision.
What is the Weight of Utility UTV Models?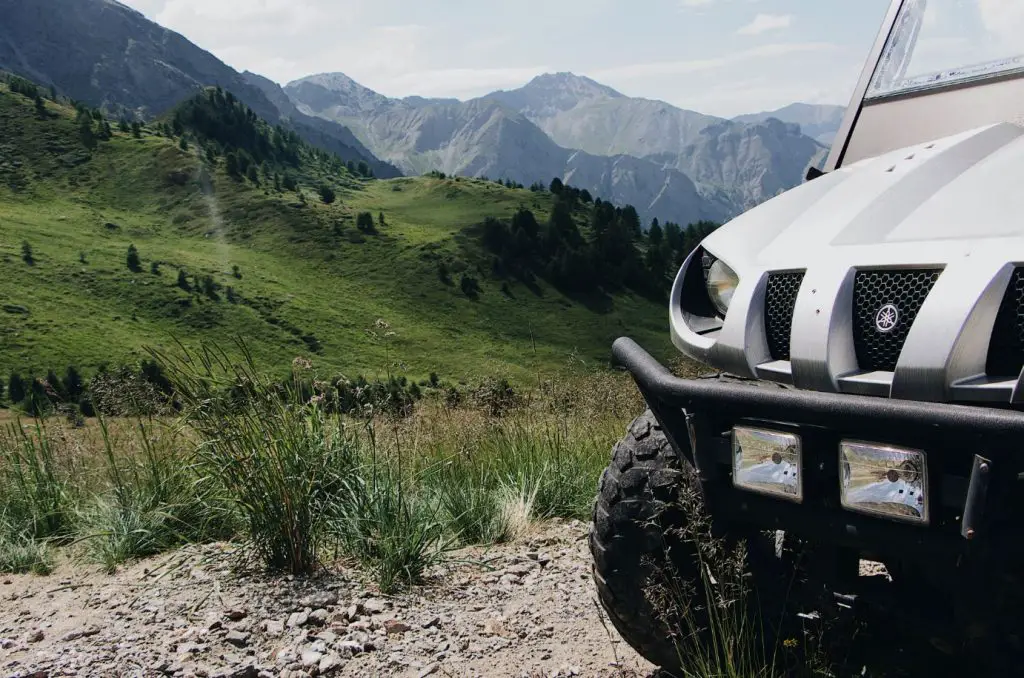 Designed for towing farm equipment or hauling a myriad of other items, utility UTVs don't normally have the fastest acceleration nor the zippiest of engines. They don't handle as well as sport models simply because they don't have to and, since keeping them light and nimble isn't really necessary either, they tend to weigh the most. Yes, there are lighter utility UTVs if you want one but, usually, they weigh more than sport and youth UTVs.
976cc Can-Am Commander 1000X = 1,287 pounds / 584 kilos
800cc Can-Am Defender Max (four-seater) = 1,710 pounds / 775 kilos
708cc Yamaha Wolverine = 1,311 pounds / 595 kilos
686cc Yamaha Viking EPS = 1,431 pounds (wet weight) / 649 kilos
875cc Polaris Ranger XP 900 EPS = 1,342 pounds / 609 kilos
1000cc Polaris General = 1,544 pounds / 700 kilos
475cc Honda Pioneer 500 = 1,010 pounds / 458 kilos
999cc Honda Pioneer 1000 = 1,709 pounds / 775 kilos
570-839cc John Deere XUV = 1,430 pounds / 649 kilos
812cc Kawasaki Mule Pro-FX = 1,832 pounds / 831 kilos
957cc Textron Havoc X = 1,755 pounds / 796 kilos
846cc Textron Stampede = 1,690 pounds / 767 kilos
846 Textron Stampede 4 (four-seater) = 1,905 pounds / 864 kilos
What is the Weight of Sport UTV Models?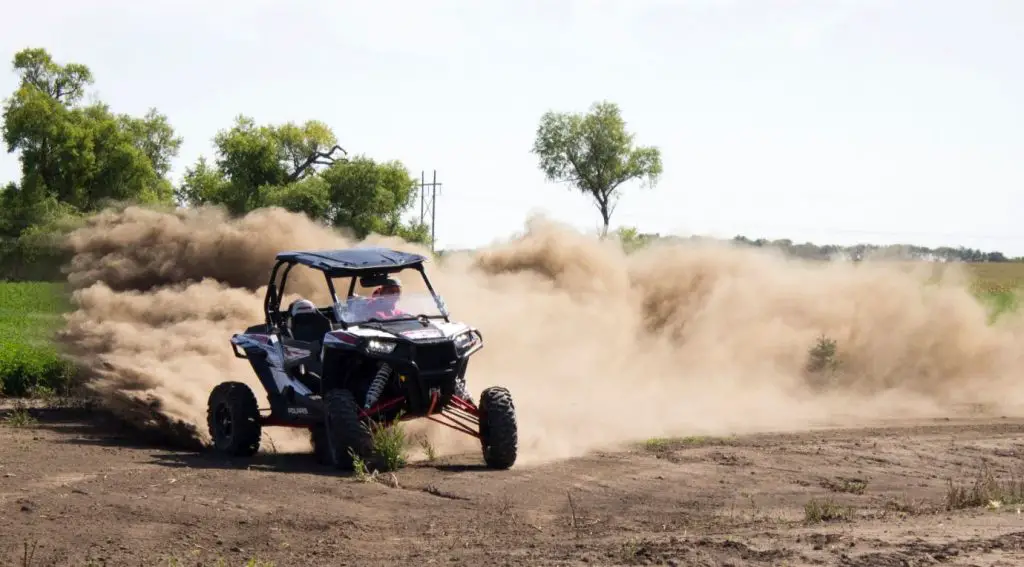 Used for racing, riding trails, climbing dunes and having a lot of fun, sport UTVs are high-performance machines that have bigger, stronger engines, go quite a bit faster than utility UTVs, and handle much better also. One of the reasons for this is that sport UTVs don't need to worry about things like storage or hauling heavy objects. For these reasons sport UTVs usually weigh quite a bit less than their utility brethren, with higher top speeds, better acceleration and maneuvering that can take your breath away.
Sport UTVs also come in three size variations which will affect their weight somewhat, so keep that in mind when looking to purchase.
1- Smaller sport UTVs are 48 inches wide (122 centimeters) and mostly used for rising trails. These are the smallest of the sport UTVs and thus usually the lightest.
2- 60 to 64 inches ( 152 to 163 centimeters) is what you'll find in the typical wider sport UTVs. Although quite a bit wider, the weight difference between these and smaller UTVs isn't as drastic as you might think.
3- Four Seat Sport UTVs. Adding 2 extra seats adds quite a bit to both the width and weight of these largest sport UTVs, making them the heaviest of the three size variations.
48-inch (122 centimeters) wide UTV Sport models
976cc Can-Am Maverick Turbo = 1,399 pounds / 635 kilos
925cc Polaris RZR XP Turbo = 1,495 pounds / 678 kilos
951cc Arctic Cat (pre-Textron) Wildcat = 1,305 pounds / 592 kilos
998cc Yamaha YXZ1000R = 1,510 pounds / 685 kilos
60-inch (152 centimeters) wide UTV Sport models
700cc Arctic Cat (pre-Textron) Wildcat Sport = 1,074 pounds / 487 kilos
875cc Polaris RZR S 900 = 1,204 pounds / 546 kilos
976cc Can-Am Maverick X xc = 1,297 pounds / 588 kilos
999cc Polaris RZR S 1000 = 1,235 pounds / 560 kilos
925cc Polaris RZR XP Turbo = 1,500 pounds / 680 kilos
976cc Can-Am Maverick DPS = 1,324 pounds / 600 kilos
783cc Kawasaki Teryx = 1,543 pounds / 700 kilos
951cc Textron Wildcat X = 1,305 pounds / 592 kilos
Four-Seat UTV sport models
976 cc Can-Am Maverick Max = 1,585 pounds / 719 kilos
875cc Polaris RZR XP 4 900 = 1,390 pounds / 630 kilos
999cc Polaris RZR XP 4 1000 = 1,596 pounds / 723 kilos
999cc Polaris General 4 1000 = 1,857 pounds / 842 kilos
951 cc Arctic Cat (pre-Textron) Wildcat 4 = 1,534 pounds / 696 kilos
951cc Textron Wildcat 4X LTD = 1,536 pounds / 697 kilos
What is the Weight of Youth UTV Models?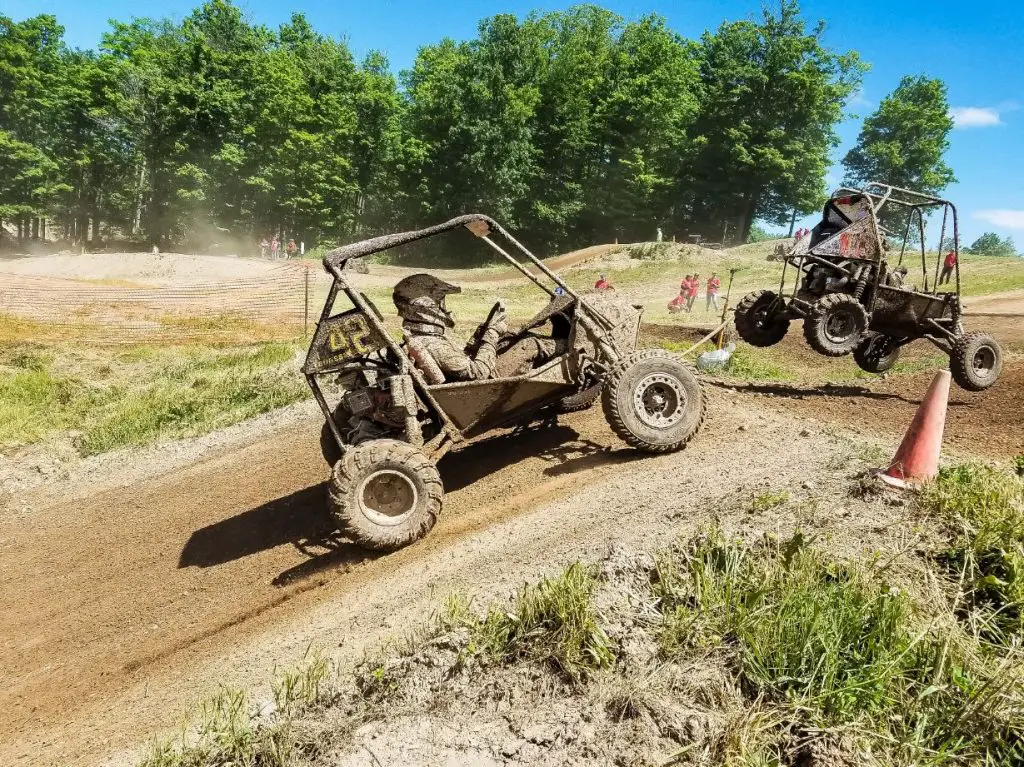 As with every type of vehicle, the smaller they are the less they weigh and, with youth UTVs, the weight is usually the least among UTV models. The reasons for this are simple;
Lighter UTVs are easier for children (of riding age) to handle and ride
They are easier to maneuver
They are less dangerous if a rollover or other accident occurs
Lighter UTVs are easier to put back upright after an accident and also easier to push out of, for example, a ditch or other tough situation.
Polaris RZR 170 = 532 pounds / 241 kilos
Polaris Ace 150 (single-seater) = 556 pounds / 252 kilos
We hope you enjoyed this article and that it answered all your questions about the weight and sizes of several different UTV models. If you have more questions, need advice or would like to leave a comment please do so in the space provided, and best of luck with your new UTV!